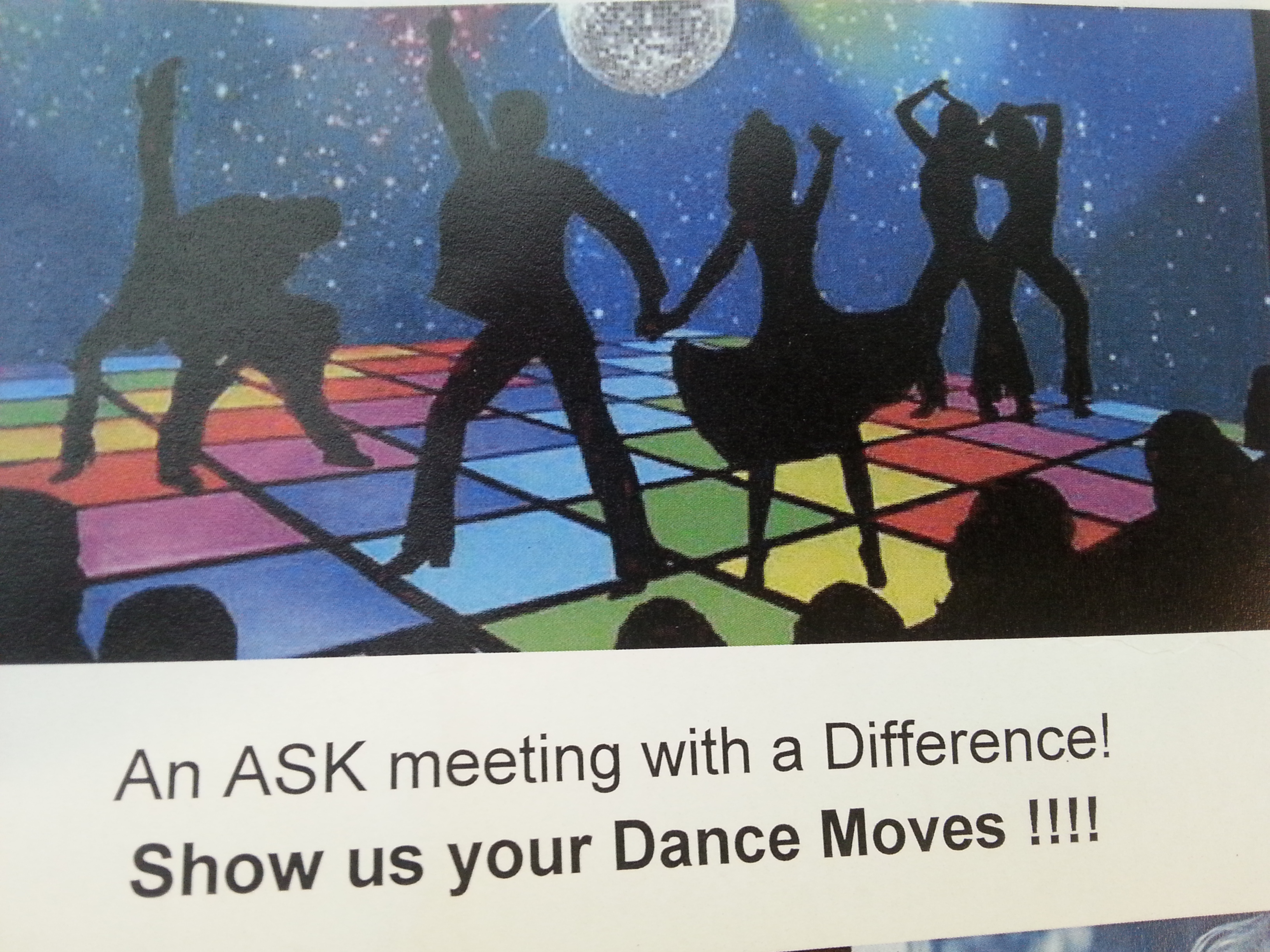 ASK Toastmasters - Advanced Speakers Club INVITES you ... an ASK meeting with a Difference!  Show us your Dance Moves!
Meeting Theme:  "Dance with the Stars!"  Dress as your favorite music icon or genre.
Meeting CoChairs:  Helen Worth and Narinder Bharti
Date: Friday, October 25, 2019 (4th Friday)
Time:  6:30 pm Meet and Greet, 7:00 pm Meeting Commences, 9:00 pm Dance.
Location:  Firefighters Banquet & Conference Centre, 6515 Bonsor Avenue, Burnaby, BC (near The Bay at Metrotown; across from Bonsor Recreation Centre). Room is very spacious. 
Cost:  $25.00 dinner meeting.  Cash bar.
Buffet Dinner Menu:  
Fresh Bread:  French and whole wheat artisan rolls.
Mixed Valley Greens with Ranch dressing and sun dried Tomato dressing.
Caesar Salad with Roast garlic dressing, herb croutons, asiago cheese.
Marinated Vegetable Salad:  Seasonal vegetables, artichokes, olives, onions and roasted garlic.
Roast Baby Potatoes:  Red and yellow potatoes with butter and fresh herbs.
Garden Medley:  Honey glazed seasonal vegetables.
Sun Dried Tomato and Pepper Pasta with a tomato basic sauce with asiago cheese.
Roasted Chicken infused with fresh herbs, lemon and a trio of peppercorns.
Roast Beef with paprika and thyme dry rub, served with pan au jus and horseradish.
Fruit Mirror:  Display of seasonal fresh fruit.
Dessert Mirror:  Assortment of finger sized cakes.
RSVP:  Advanced registration is required.  Please confirm your attendance by October 18 to Narinder Bharti at Narinder_Lal@hotmail.com or Call /Text 778-580-8099 
GUEST ARE ALWAYS WELCOME!  https://advancedspeakers.toastmastersclubs.org/directions.html
Submit your own Club, Area, Division or District Event!