Advanced Speakers Club (ASK) in Holidays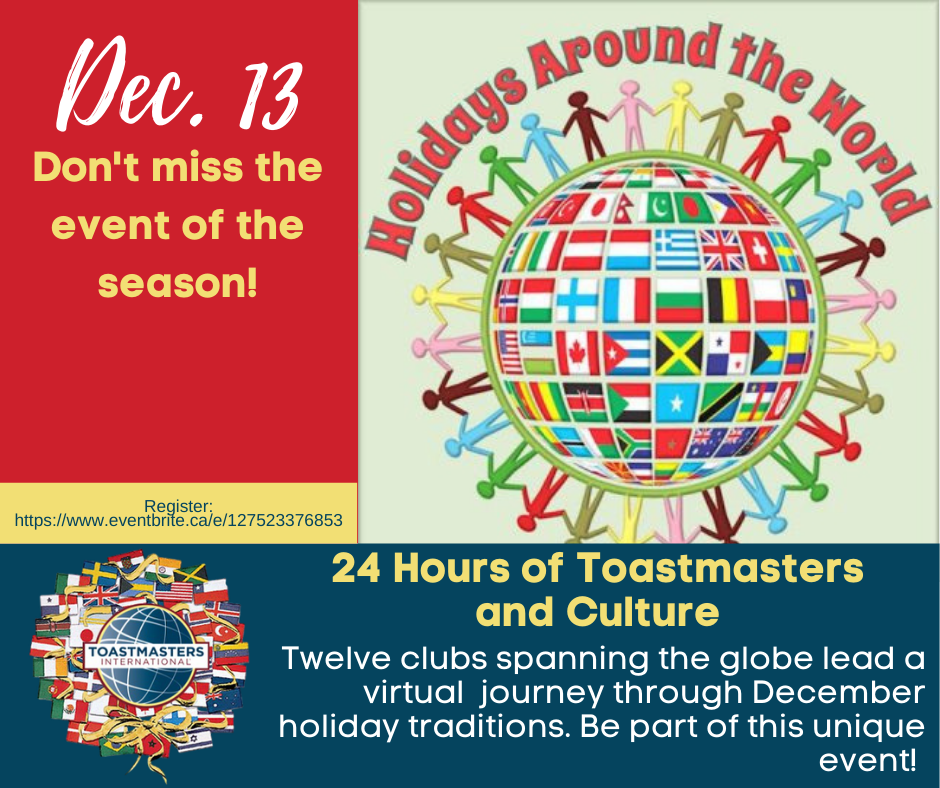 ADVANCED SPEAKERS CLUB - "ASK" Toastmasters
Invites you to join this marathon celebration in "Holidays Around the World" with
24-Hours of Toastmasters and Culture
DATE:  Sunday, December 13, 2020
TIME 12:00 pm (noon)- 2:00 pm (Pacific Standard Time).
 Join in at 11:50 am 
THEME:  "The Most Wonderful Time of the Year"

CO-CHAIRS:  Margaret Page  DTM, and Dorothy Miller, DTM, with 12 Toastmasters clubs coordinated through Mike Brown, Past District 21 Director
REGISTER for this free online event:  https://www.eventbrite.ca/e/127523376853
MEETING DETAILS:  Advanced Speakers Club (ASK) will be one of twelve Toastmasters clubs from around the world that will present a 24-hour marathon celebrating December holiday traditions.  Each club will produce a 2-hour meeting segment and then hand off the meeting to the next club. 
Meetings will start in Japan and end in Hawaii.  Drop into the meeting any time – or challenge yourself to take in the whole marathon!
Which clubs will participate? What countries? Which holidays? Learn the answers as we lead up to this exciting Toastmasters event.  Some countries include Japan, Australia, Malaysia, Ireland, Bahamas, Canada and Hawaii in the United States of America.  See full chart of clubs, themes and Countries under District 96 Toastmasters.ca Events / Calendar on Saturday, December 12 at 4:00 pm PST

Advanced Speakers Club's exciting meeting will feature:
* Storytelling
* Carol-oking
* Holiday-Themed Table Topics
* Interactive Team Games
* And, Much Much More!
Don't miss this event of the season!
REGISTER for this free online event:  https://www.eventbrite.ca/e/127523376853
For more information, please contact our meeting co-chairs:  Margaret Page margaret@margaretpage.com OR Dorothy Miller dorothymiller.tm@gmail.com

Club Website:  https://advancedspeakers.toastmastersclubs.org/
GUESTS ARE ALWAYS WELCOME!
Submit your own Club, Area, Division or District Event!