Vladimira Horvathova Celebration of Life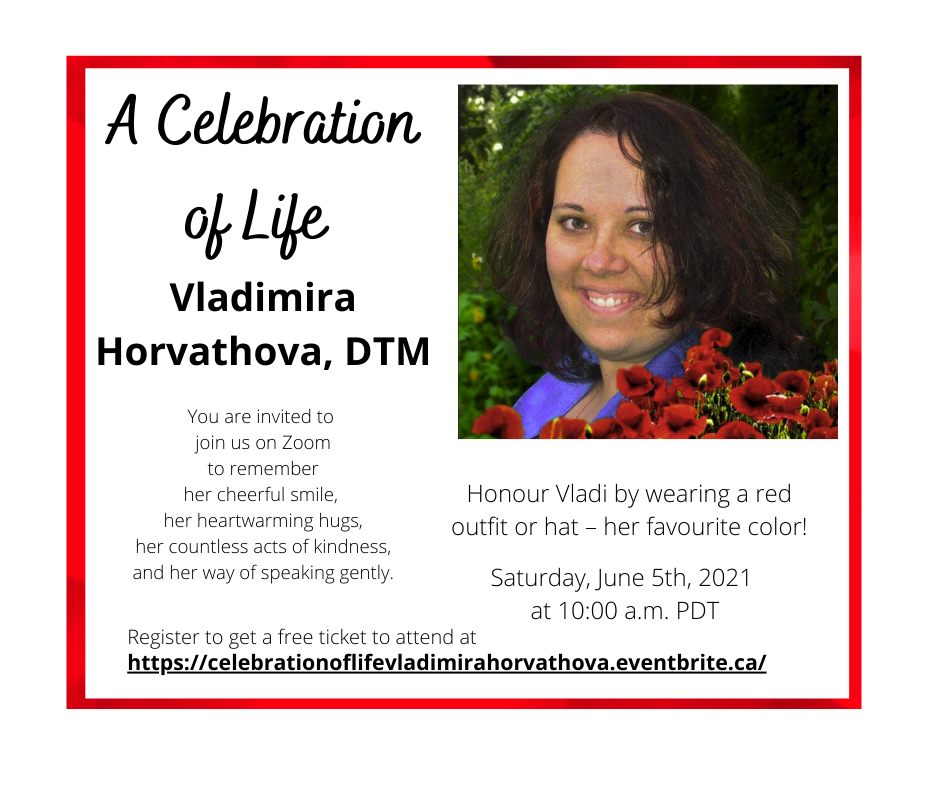 INVITATION to join us on Zoom ... 
A Celebration of Life of Vladimira Horvathova, DTM

Remember her cheerful smile, her heartwarming hugs, her countless acts of kindness, and her way of speaking gently.
Friends & fans of Vladimira Horvathova are invited to a virtual Celebration of Her Life on SATURDAY, JUNE 5th, 2021, at 10 a.m. Please register for a free ticket to this Zoom event at https://celebrationoflifevladimirahorvathova.eventbrite.ca/
Honour Vladimira by wearing a splash of **RED **-- a shirt, an outfit, a hat -- it was Vladi's favourite colour. Then join us as we share what a big impact she had on us . . . just by being her smiling, positive, helpful, friendly, genuine self.
Vladi was a woman of hidden talents. We may have a surprise for you!
— thinking about someone special.

Here's the speaker line-up for today's Celebration of Life for Vladimira Horvathova at 10 a.m. PDT.
We hope to see all of her friends there!
1. Nicolas Jimenez, President & CEO, ICBC
2. Silvia Orgonova & Natalie Oakman 
3. Joyce Mahy, Advanced Leaders Lab Toastmasters
4. Matthew Birmingham, Quay Speakers Toastmasters
5. Spero Moukas, Sea to Sky Toastmasters
6. David Predeaux, I Speak You Speak Toastmasters
7. Lydia Burchell, Toastmasters District 21 Director
8. Carole Murphy, Toastmasters District 96 Director
Contacts for further information, if needed:
April Soon at april.showers.soon@gmail.com 
or Sharookh Daroowala at daroowala@shaw.ca
Submit your own Club, Area, Division or District Event!