The education program is an important part of every Toastmaster's journey and is a critical aspect of every club meeting around the world. The Toastmasters Education Program is based on a proven curriculum that enables you to develop your communication and leadership skills one step at a time
Communication Skills
The goal of Toastmasters is to make effective communication the reality for people worldwide through education, practice and a supportive community. Being able to faciliate meetings and speak in public has provided many with confidence in their work and opened up career advancement opportunities for many people. Toastmasters has a world recognized communication and leadership training program that has brought results in hundreds of thousands of people worldwide.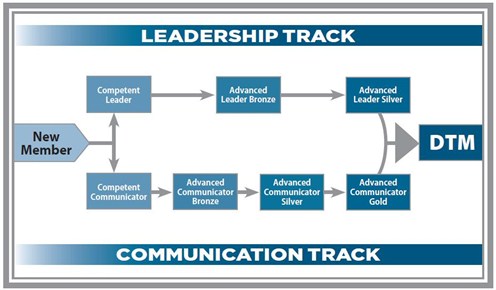 For more information on the communication program see Communication Track on Toastmasters.org
Leadership Development
Contrary to many believes, Toastmasters does more than just public speaking, we train leaders. Leadership wasn't something that could be learned in school and this is why Toastmasters is recognized by hundreds of thousands worldwide as an effective source of personal development training. At Toastmasters, we believe leaders are made and provide leadership opportunities for aspiring leaders at different level. Whether you are looking to gain organizational leadership experience or project management experience or leadership involving a territory that spans the province, Toastmasters provides training and opportunities to shape aspiring leaders to become they leader they wish to be. 
The Toastmasters Leadership Tract program gives Toastmasters opportunity to lead at different levels and receive mentorship from those with results and later on opportunities to train and mentors others to become leaders.  
Corporate Leadership Training
Toastmasters is more than just a public speaking program. Toastmasters is recognized by governments, companies and institutions as a leading resource for leadership training for its employees of all levels. District 96 is proud to be working with local organizations like Telus, City of Vancouver,Safeway, Lush and many other well known companies to provide club meetings with the Toastmasters program structure. 
For more information on leadership training at Toastmasters, refer to visit Leadership Track on the Toastmasters.org