Golden Speakers 2019 Open House Event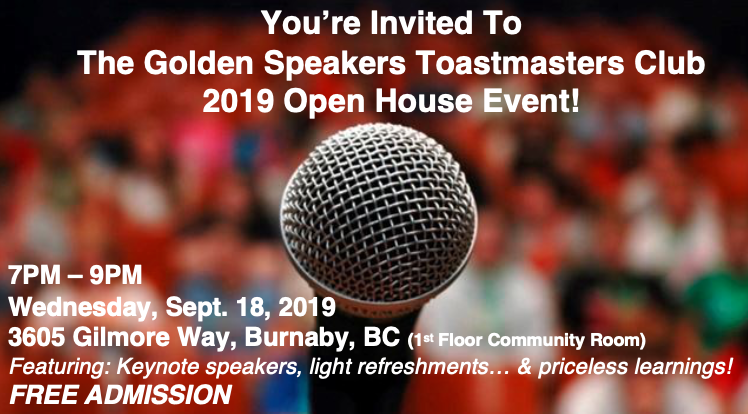 Have your family, friends and colleagues ever asked you "What REALLY goes on in a Toastmasters meeting??"
Why not, instead of telling them... show them! 
It's that time of the year when we Golden Speakers invite our family, friends, colleagues and general public to our annual Golden Speakers Open House Event, on Wed. Sept. 18, 2019 at our usual club time (7PM to 9PM) at 3605 Gilmore Way, Burnaby (1st Floor, Community Room).
With a handful of keynote speakers, prepared speeches from our very own Golden Speakers club members, light refreshments, and free admission & free parking we guarantee our guests nothing less than a fun filled and engaging evening!
For more information, guests may contact us at goldenspeakersTM@gmail.com, by text at (604) 657-5355 or by visiting us on our Facebook page at https://www.facebook.com/groups/goldenspeakers/.
Thanks & see you all there!
- Your Golden Speakers Toastmasters Club Members
Submit your own Club, Area, Division or District Event!