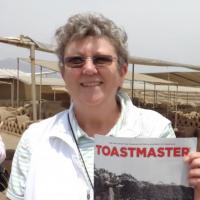 Maureen McBeath, DTM
I am a strong advocate of the spoken word and feel we need to start these skills in the early years of education.  We all have stories and interesting things to share, Toastmasters can help you find your voice. I always enjoy speaking with groups about developing communication and leadership skills.  I've also enjoyed participating in speech contests and providing training for club officers and others.
If our classrooms clapped for every child who rose to speak, as we do in Toastmasters, there would be few who would fear public speaking.  I am a teacher, a Toastmaster, a District Contest Finalist and I believe that it is not a matter of "it can't be done" but rather "we're just not there yet."
Member History