'What's Your Next Bold Move' Open House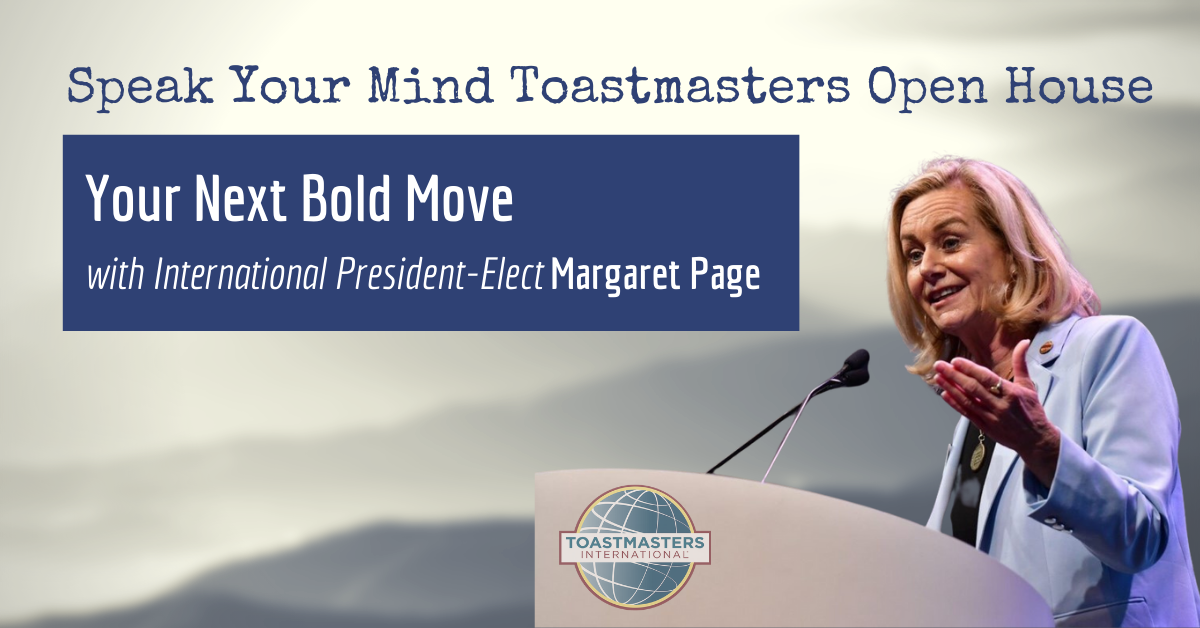 Welcome to Speak Your Mind Toastmasters!
Where every meeting is fast-paced, often irreverent, and always a humorously good time. 
Jump into the fray and share whatever issue is on your mind… we look forward to hosting you at our upcoming Open House where we'll be asking you...
Are you ready for your next bold move?
After more than a year filled with restrictions, you may be feeling a pent-up need to emerge in a new and audacious way. But how to make that move?
In her presentation, "Your Next Bold Move," International President-Elect Margaret Page, DTM, will offer tools to guide you in taking that next big step.
You'll learn about tools such as a Personal Values Shield, the process of goal modeling, the Wheel of Life, and more.
Margaret will take you through processes that stretch your imagination, helps you envision the next chapter in your life, and creates your desired future.
Get ready to claim your story, step into your power, and make "Your Next Bold Move."
Speak Your Mind Toastmasters is hosting our Spring 2021 Toastmasters Open House on April 9th.
Join us virtually to learn how to speak with confidence while having the most fun possible! 
PS. Questions for us? Please email us at coach@daimanuel.com -- see you on the 9th!
Submit your own Club, Area, Division or District Event!