ASK dinner meeting Speakers/Pathways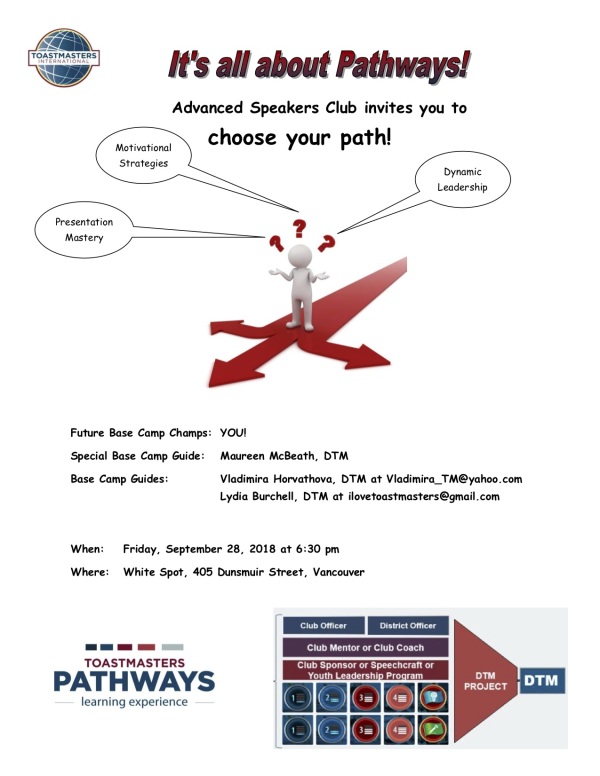 Advanced Speakers Club/Klub (ASK) dinner meeting
When: Friday, September 28, 2018 at 6:30 pm
Where: White Spot, 405 Dunsmuir Street, Vancouver
Cost:  $25.00.  Reply is required with Menu Choices (appetizer/entree below)
RSVP by Sunday, September 23rd (preferred) to Vladimira_TM@yahoo.com

We're looking forward to another incredible ASK meeting with 3 Speakers plus an Education Session.
Instead of Table Topics, find out more about Pathways, "Beyond the Basics", by special guest, Maureen McBeath, DTM.

Future Base Camp Champs: YOU!
Special Base Camp Guide: Maureen McBeath, DTM
Base Camp Guides: Vladimira Horvathova, DTM at Vladimira_TM@yahoo.com
Lydia Burchell, DTM at ilovetoastmasters@gmail.com

Choose your side salad:
- Signature mix green Spot salad tossed in house dressing, or
- Ceasar salad

Choose your entrée:
- Salmon Spot Salad
- The Legendary Burger
-  Mediterranean Chicken Burger
-  Spaghetti & Meatballs
-  2 piece Fish & Chips
Please review the menu. RSVP by Sunday, September 23, 2018 at vladimira_tm@yahoo.com what you'd like to order.
Your order will save your seat and confirm your responsibility of the $25.00 payment at the door by cash or check.
We'll end the evening with three fantastic speeches as well as a sweet dessert.
Submit your own Club, Area, Division or District Event!