ASK Christmas Brunch meeting & auction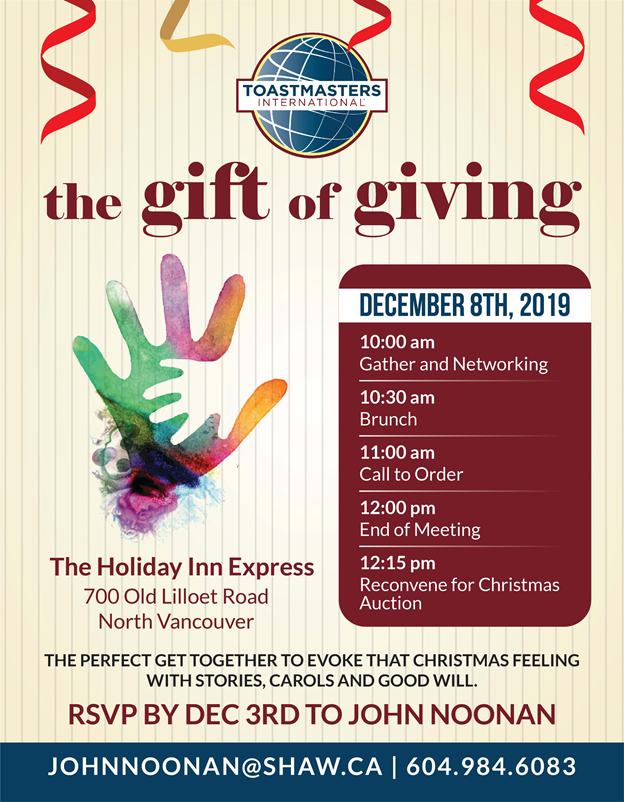 ASK Toastmasters - Advanced Speakers Club INVITES you to an ASK Christmas Brunch Meeting and Auction
Meeting Theme:  "The Give of Giving" .. The perfect meeting to evoke that Christmas feeling with Stories, Carols and Good Will.
Meeting CoChairs:  Margaret Page and John Noonan
Date: Sunday, December 8, 2019 (on a Sunday morning)
Time:  10:00 am Gather, 10:30 am Brunch, 11:00 am  Call to Order, 12:00 pm End of Meeting, 12:15 pm Reconvene for Christmas Auction
Location:  The Holiday Inn Express, 700 Old Orchard Way, North Vancouver, BC 
Cost:  $25.00 brunch meeting.  OPTION: Bring an unwrapped item or service for charity auction, any value (test your auction skills, instead of Table Topics).  
RSVP:  Advanced registration is required.  Please confirm your attendance by December 3 to John Noonan at johnnoonan@shaw.ca or Call 604-984-6083 
GUEST ARE ALWAYS WELCOME!  https://advancedspeakers.toastmastersclubs.org/directions.html
Submit your own Club, Area, Division or District Event!