Open House - Crystal Clear Speakers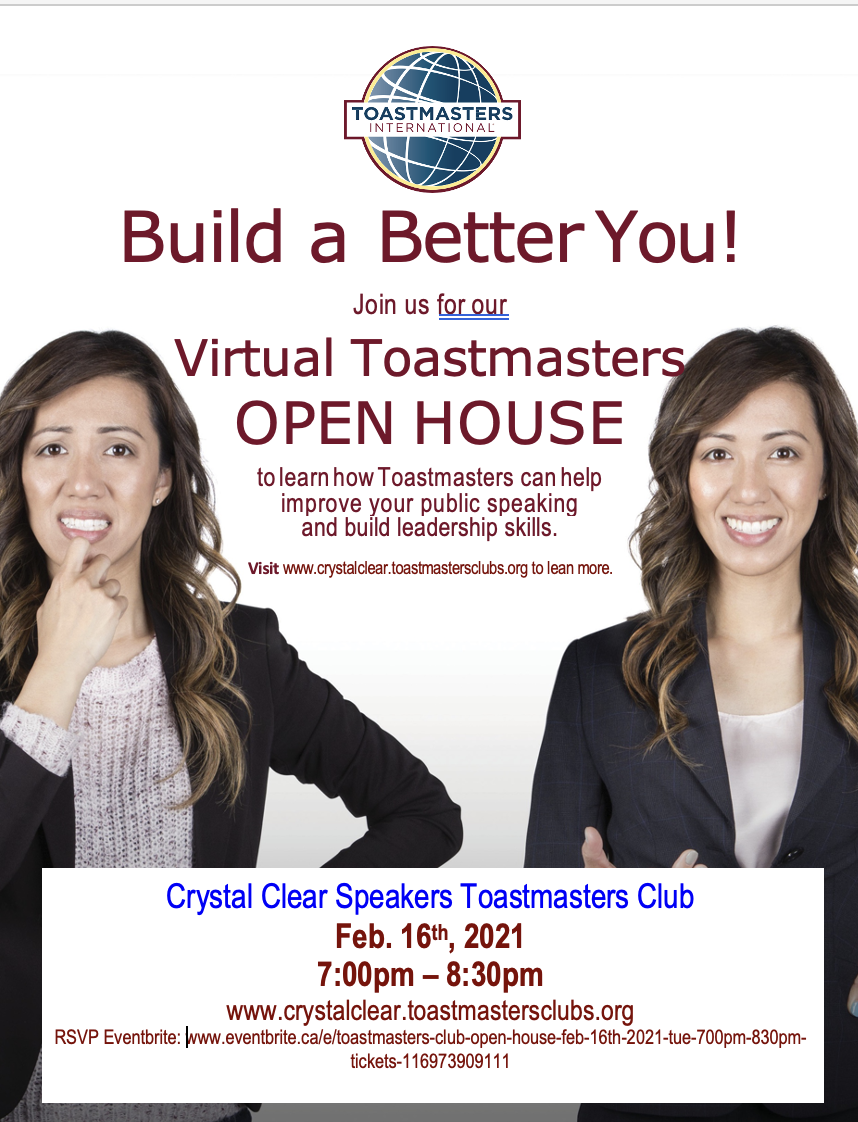 Open House - Online Toastmasters Meeting 
Feb 16th, 2021 Tue 7:00pm - 8:30pm
Join our fun filled Online Zoom Toastmasters Meeting. Meet new people and challenge yourself with new skills!
Tired of social distancing and staying at home? Are you ready to make changes to your routine to improve yourself and meet new people? 
Come join our open house meeting.
Benefits:
improve public speaking skills
build leadership skills
build self-confidence and self-awareness
maximize your potential
unlimited personal growth
*Meet Every First and Third Tuesday of the Month | 7:00pm to 8:45pm | Poirier Public Library | Board Room | 575 Poirier St | Coquitlam |
*Due to Covid alert, we will be doing online Zoom meeting until further notice.
Please, be aware, the club is temporary switching to video meeting and guests should be expected to show their faces/turn on cameras
---
RSVP Eventbrite: www.eventbrite.ca/e/toastmasters-club-open-house-feb-16th-2021-tue-700pm-830pm-tickets-116973909111
---
Online Info:
Website: crystalclear.toastmastersclubs.org 
Email: crystalclear.toastmastersclubs@gmail.com
Facebook: www.facebook.com/crystalclearspeakers/
We will contact you with Zoom meeting information after your RSVP.
Submit your own Club, Area, Division or District Event!