Communication and Leadership Award 2021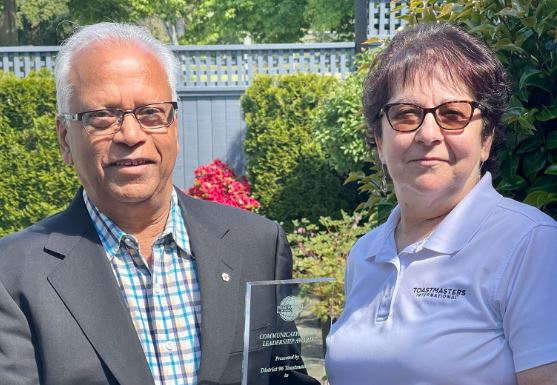 Fellow Toastmasters, Guests and especially, the man of the moment, Hari Varshney and his most
welcome family and friends,

It is with great pleasure that, as District Director, I formally announce that Hari B. Varshney, FCPA, FCA, O.B.C.  is the recipient of District 96 Toastmasters' Communication & Leadership Award for 2020-2021.

Every year, Districts within Toastmasters award the Communication & Leadership Award to one local non-Toastmaster who exemplifies the spirit and values of Toastmasters: demonstrating outstanding community and public service, espousing a worthy cause or purpose especially as it exemplifies communication and leadership skills, maximising human potential, building self-confidence and self-awareness.  This year, Hari's glittering accomplishments and lofty contributions made the hard task of the Selection Committee rather easy. For nominating Hari, I thank none other than Distinguished TM, Sharookh Daroowala.

Hari, at Toastmasters, we love stories; especially inspiring and uplifting stories, like yours. Stories of grit, will-power and determination. We root for under-dogs who over-achieve. And as you have already witnessed, we applaud and clap until our hands hurt.

Hari B. Varshney was born in a rural Indian village with no electricity. His ancestral home had a single source of heat and light. A kerosene lamp! It was enough light to power Hari's young heart and enlighten his bright mind.

At 16, Hari left his village for higher education in a large city. He took with him a set of books and three values his parents had inculcated in him. Hard work, kindness, and empathy. Hari obtained his B. Comm. degree in India, placing 1 st out of 50,000 students at his University. He also placed 1 st in the Master's program out of 20,000 students. With endless potential, $100 in his pocket and a $1,000 scholarship from UBC, Hari arrived in Vancouver in 1967. India's loss was Canada's gain!

Whilst studying for his MBA at UBC, Hari worked part-time as a bus-boy at the campus canteen. It paid $1.30 per hour. But it was in that role that Hari learned the art of service with a smile. Hari was the first Indo-Canadian to achieve a Chartered Accountant designation in B. C. and the first to achieve the Fellowship designation (FCA) from the Institute of Chartered Accountants of B.C. Hari went on to blaze multiple trails in the corporate world.

For over 25 years, Hari and his wife, Madhu have been at the forefront of several charities and non-profits who have benefited greatly from their dedication and largesse. Hari has been instrumental in raising over $250 million for various educational and philanthropic causes.
His family has directly contributed nearly $5 million too. Here's just a part of it:
$1,000,000 thru' the Varshney Capital Corporation Charity Golf Classic, held for the last 12 years at UBC Golf Course. It has raised over $1 million for the BC Children's Foundation, Learning Disabilities of Vancouver, Room to Read and other organizations.
$1,000,000 for the Hari Varshney MBA Entrance Scholarship for International Students
$500,000 for the Hari & Madhu Varshney Visiting Scholar Program for Indian Studies at SFU
$750,000 for the Hari Varshney Alumni Suites at the Robert H. Lee Alumni Centre at UBC
$175,000 for the Hari and Madhu Varshney Lecture Series at UBC Centre for Indian and South Asian Research
300,000 for the Varshney Family Lounge at the Maternity Centre of the new St. Paul's Hospital.
Hari's vision, dedication and drive have made a significant and sustainable impact to multiple worthy causes. His remarkable leadership legacy includes:
Chair - St. Paul's Hospital Foundation
Board Member – St. Paul's Hospital Foundation (9 years)
Cabinet Member - the New St. Paul's Hospital which has already raised $230MM for the
new hospital
Chair - Light of Hope Foundation, St. Paul's Hospital
Cabinet Member - UBC's $1.5 billion Start an Evolution campaign - the most ambitious fundraising and alumni engagement campaign in Canadian history.
Director - Canada India Village Aid Association (CIVA) for rural health and Tibetan refugees displaced in India.
Founding Director & President, India Club, a charity dedicated to helping people in India affected by earthquakes and blindness.
Hari's leadership and contributions have been widely recognized. He has received:
O. B. C. - Order of British Columbia in 2015
SFU President's Distinguished Community Leadership Award in 2018
UBC named the Hari B. Varshney Business Career Centre after him at the Sauder School of Business
Queen Elizabeth II Diamond Jubilee Medal - 2012
BC Achievement Foundation gave him the Community Achievement Award in 2006, and
RBC the Top 25 Canadian Immigrant of the Year Award in 2009
What a story! What a legacy! To Hari's children and grandchildren, all I can say is that you have very big shoes to fill.
Hari B. Varshney, on this day, May 8th, 2021, it is my honor to confer upon you Toastmasters International, District 96's Communication & Leadership Award for 2020-2021.