Need Club Promotion Ideas?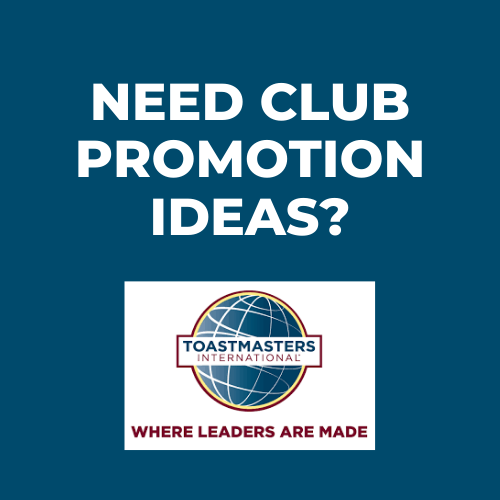 Sometimes we just need ideas and how to get started on a worthwhile project. If you're like me, reading a quick list of ideas others have used can get the juices flowing and a plan comes together. Adding an Open House (or two or three) to your Club Success Plan this year as a way to promote your Club, is a sound idea. But then what?
 
Start with celebrating your Charter date! This year, at the District level, we'll be celebrating Charter-versaries (Charter Date + Anniversary – clever right? Thank you, District 25 for the idea!) that are happening on the 5th, 10th, 15th etc years. But no one says you cannot celebrate every year. (Not sure when your Club Chartered? Find it on your online DCP report! If you're not sure how to find that, contact your Area Director or send me a quick email at mimi.vanderheide@outlook.com and I'll give you a quick demo on where to go)
 
Here are some ideas for you to bring up at your next Club Officer meeting:
Charter Party – invite past members (you can get this list on Club Central)

So many ways to do this so a quick online brainstorm with your Club Officers would be vital
Themed–based on the name, the year, or even everything 5's or 10's!

Open House – there are Clubs that have done really great events plus this might be tough to plan and advertise well but there are Clubs having great success, even online.
Speechathon/Speech Contest with age groups (even kids), beginners/professional categories or members of the community. I still think this would be a cool idea to host at the Fall Fair along with the Talent Show they do each year.
Speak-Easy, Talent Night or Open Mic could also work
 
Did you know you can print off a Charter-versary Certificate for your Club every year if you want? If you're a Club Officer, login to toastmasters.org, click on Leadership Central, then Club Central, then Club Achievements and you'll see a button on the right side called "Anniversary Certificate". Put it on your guest table in a nice frame each year just to have some fun recognition.
 
A quick Google search can bring up some amazing ideas but here's one I found that even has some press release and promotion ideas. (Thank you to District 86!)
5 Ideas For a Great Open House
 
Be watching for the PR workshops going on each month by checking the D96toastmasters.ca calendar.
 
Please reach out to your Area Director if you have any questions about promoting your Club and how to add that to your Club Success Plan.
 
Get out and Pro-MOTE!!