"COT Best Practices – 5 Tips for Trainers August 2020"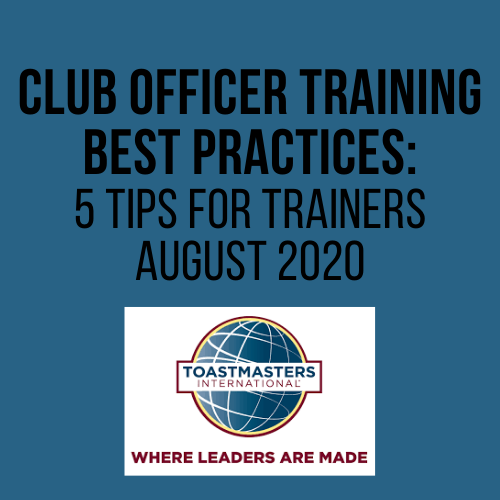 Being able to train well, to keep your trainee's attention and engage them in the subject matter takes time. Sure, some folks come quite naturally to it and yet, because things are always changing, isn't it important for the trainers to keep learning too?
We're into August now…are you doing a training for our members? Would you like some best practices to bump up your next COT for even higher performance and customer service (aka Club Officer service)?
Find out 48-72 hours before your training who you have registered by contacting your Program Quality Director. They can give you the names and email addresses of those registered on Eventbrite so you can prepare yourself mentally as well as;

Send your registered attendees a quick welcoming email with some resources attached for their review, instructions and maybe even a link for those new to the location or platform you'll be using (ie Zoom). Prepared attendees are way easier for a trainer!

Walk yourself thoroughly through your material and your slides. Filling 2 hours is super easy when you share the TI slides and then give your attendees some strategies, action plans and community by sharing with each other their best practices. For example, if you're training the President's, VP Education's and/or Secretary's…are you showing them Pathways Base Camp Management? This is a vital part of these roles. If you don't feel confident in this portion, enlist the support of a fellow Toastmaster who can come on to train this portion. This best practice seems like a 'no-brainer' however, confidence comes from being prepared and I know I love feeling confident going into a training so I'm sure you do to!

Take notes or ask another Toastmaster to come online with you as an assistant as you'll be able to add to your own Club Officer roles best practices by listening to the others on the line.

Send a follow up email to those that were in the training with you. Add any other resources that came up, a list of the takeaways and action planning that were mentioned and ask them for their feedback for your training session.
Support your fellow Toastmasters with a stellar training and first steps, especially for those new to the Club Officer role for which they're being trained. This way, you feel confident and they will too!