Youth Leadership Program on the Sunshine Coast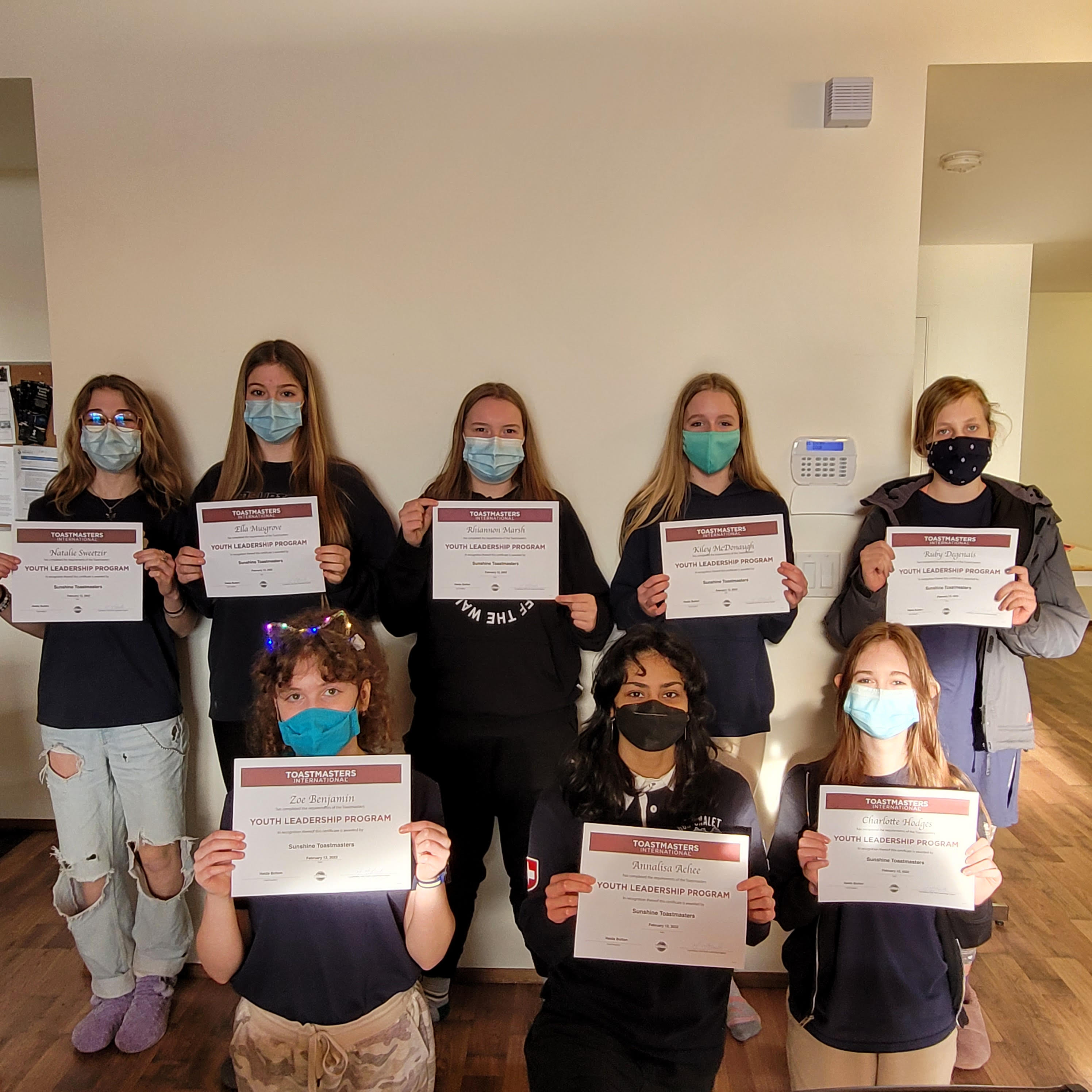 These Youth Leadership Program participants found their voices during COVID
Over 500 Youth Leadership Program certificates have been presented to students on the Sunshine Coast over the past 10 years.  The program first started at Chatelech Secondary School when a member of the Sechelt TM club offered to provide the program for their school's Leadership Class.  25 students participated in an eight-lesson program that got them up and speaking.  The second year some students came back to share how they had done well in interviews for summer jobs.  Elphinstone Secondary school in Gibsons asked the Gibson's TM club, Morningstars, if they could provide the same program to their Leadership class.  The program continued at both high schools introducing 25 more students per school per year to the skills of public speaking and better communication. 
Five years ago, the Girl Guide leaders asked that their senior girls, the Rangers and Pathfinders, take the program to prepare for a major trip.  The Guides had another 12 girls receive their certificates in February 2022. 
The Air Cadets came on board four years ago.  The local squadron wanted their young people to start participating in the Air Cadets Effective Speaking Competition.  In the first two years of the program one of the local cadets placed second twice in the Vancouver competition.  This past year, 2021, he not only came first in BC but went on to win the National competition. He brought home the Gold Medal, the first time for BC in 10 years. 
This year Pender Harbour Secondary school has joined the program.  Their Grade 11 students will be taking the YLP starting in March.  
Members of the Gibsons and Sechelt Toastmasters clubs volunteer to lead these classes at the schools and at the Cadet and Guide meetings.  This school year more than 75 teens will take home a Toastmasters Certificate along with the lifetime skills of communication and leadership.  Pictured here are the Guides who participated in person this year, while another three joined sessions via Zoom.  It has been an interesting year of providing sessions in person with full covid protocols being respected in the schools, everyone was wearing their masks, and elbow bumps were used rather than handshakes.  We still had fun, good laughs and a lot of learning.
Maureen McBeath, DTM.
Sunshine Toastmasters