Rise!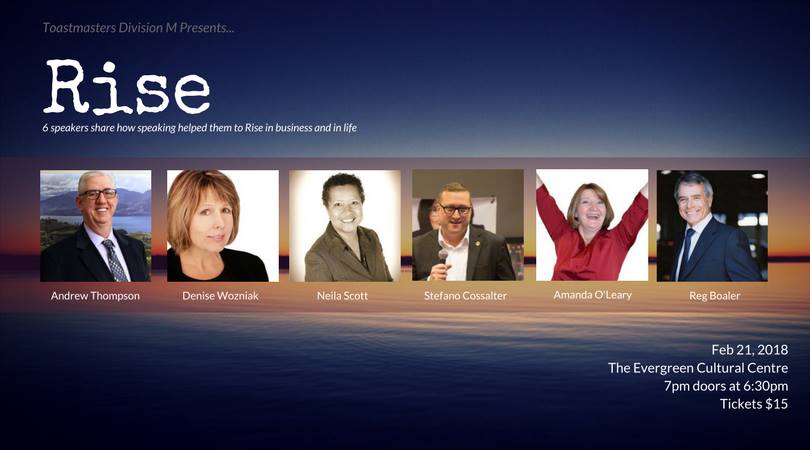 When we find our voice, we rise up.
An evening hosted by Toastmasters, for everyone.
We are bringing together an amazing group of speakers who will share with you how public speaking skills have helped them to Rise in their personal and professional lives.
Learn how public speaking can build your confidence, transform your life and discover new opportunities.
If you want to rise up in your career, or if you're curious to learn how speaking can improve your sales and help you to grow your business. This is an evening for you.
If you're a Toastmaster looking to take your speaking skills to the next level, then you will enjoy hearing from some of our local speech champions. This is an evening for you.
And if you want to be inspired and entertained. This is an evening for you.
MEET THE SPEAKERS:
AMANDA O'LEARY
Amanda O'Leary entertains, motivates and empowers her audiences through her humour, body language and storytelling. A performer, a motivational speaker, a workshop leader, corporate trainer, an emcee phenom – if it has something to do with getting a message across in an entertaining and inclusive way Amanda does it. She has been fortunate to teach and perform across Canada, the US, England and Denmark. Amanda loves to teach others how to find their own style, come out of their shell, tell their expertise in a way that connects their message and themselves to their audience. That's when communication happens. She teaches the same way she presents – huge dollop of humour, heart and humanity. 
Amanda's personal motto is "if it ain't fun I'm not doing it!" 
"you are a woman who empowers other women"
"you rekindled in me the reason I chose this profession"
"you lit me afire when mine had gone out"
ANDREW THOMPSON
Andrew will share with you the speech that took him to the World Championship of Public Speaking in 2016. 
Andrew Thompson has over 30 years experience as a successful small business owner and a foster parent. He has supported over 100 young people to gain both life-skills and independence. He is a passionate advocate for youth and has volunteered as a Scout Leader, Baseball Coach and Instructor for the Air Cadets: Effective Speaking Program. He is very active in his community and was recognized in 2016 as the Pitt Meadows Citizen of the Year. He is a DTM, District 96 Table Topics Champion for 2017-18 and the past District 96 International Speech Contest winner for 2015-16; having competed in the TM World Champion Semi-Finals in Washington DC. He is currently a member of Talk of the Town and Blue Heron Toastmasters. In addition to his work with Youth and Toastmasters, Andrew keeps busy managing his real estate investments and is embarking on a new career as a Real Estate Agent.
STEFANO COSSALTER
Stefano will share with you in a deeply inspirational speech how public speaking changed his life. 
Stefano Cossalter has over 20 years of experience as an entrepreneur starting in the restaurant industry and moving into marketing and product creation. He has created several products from idea to market including bringing the first breath mint strip to North America. For the past 6 years, Stefano has been studying public speaking and speech craft. He is a two time Distinguished Toastmaster, the 2015 District Tall Tales Champion and 2017 Evaluation Contest Champion. Stefano is now a Public Speaking Coach and is co-writing his first book titled the F.E.A.R.L.E.S.S Speaker's System. In his free time, Stefano enjoys playing soccer, memory mastery and loves mentalism and eating steak.
NEILA SCOTT
Neila will be sharing with you how public speaking can improve your business and increase your sales. 
Neila Scott is a much sought after software trainer serving several multi-national corporations. She is widely traveled, providing training in 15 different countries in the past 2 years, in 3 languages.
A Distinguished Toastmaster, she is past President's Distinguished Division Director, mentor for 3 clubs, and a charter member of Blue Heron Toastmasters.
She delivers her presentations with flare and humour employing all the best training techniques to ensure the message is effectively retained.
DENISE WOZNIAK
Denise is a speaker on Adaptability and how leaders need to hire and be adaptable in this era of digital transformation.
Denise has been a Toastmaster for the last 8 years and has been a member of 8 different clubs from Vernon and Kelowna to the Fraser Valley and the Lower Mainland. She has worked in Human Resources, officiated at funerals and been a golf tournament event planner.
She currently lives in Mission with two dogs, a cat and a husband named Henry
REG BOALER
"I joined Toastmasters for one purpose: to just be comfortable with public speaking. 
Growing up, I've always admired men and women who could eloquently speak "off the cuff," extemporaneously. In today's world of fast-paced business, if you're ever going to influence another human being, manage or lead another human being or develop other human beings, you had better be a good communicator or you're simply not going to connect. I knew that if I was going to lead my company, influence my staff, build my client base and remain in business, I had better be able to communicate and do it well. 
My favourite quote of all time is from David Brooks, the 1990 Toastmaster's International Speech Champion who said, "There is no single skill, more important to your personal or professional advancement, then the ability to communicate." How true. 
Over the course of my experience with Toastmasters, I discovered that not only have my speaking skills improved, but also my writing skills. Today, I can prepare and compose more effective introduction letters, training manuals and other printed data that instantly connects me with my clients and prospects. 
Competing in four Provincial International Speech Competitions in six years, I competed in the World Semi-final speech competition in 2015 in Las Vegas among the other top 95 best speakers in the World. 
I joined to become a more confident speaker. What I didn't expect was all of the friends that I have made in other Clubs in other Countries in addition to Canada.
This organization not only made me a better communicator, but a better salesperson, a better manager a better listener and a better human being. 
My only regret is, that I hadn't joined 15 years earlier."
Join us! Ticket are available by clicking the link inside the event on the calendar page.