BC Toastmaster Celebrates 50 Years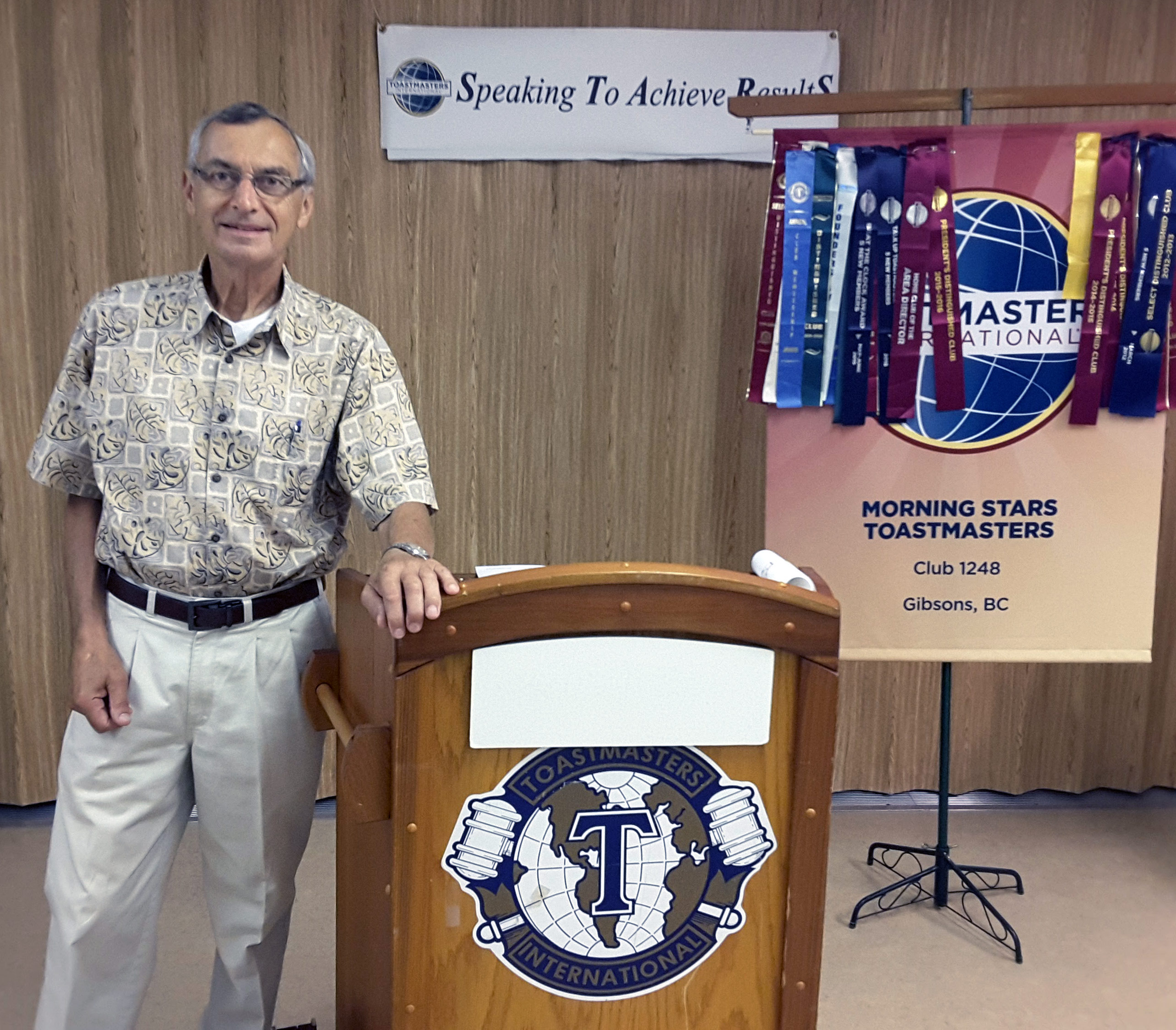 "I stood back, guided and filled in the gaps."
Distinguished Toastmaster Frank Coldicott recently returned from a visit with his daughter in Australia. While he was there, father and daughter, both wood crafters, designed and constructed homemade Adroinnock chairs.  While Frank's daughter is still exploring her abilities, Frank said he was most content to stand back, guide and fill the gaps in her training.
Much like he has done for our Morningstars Toastmasters club on the Sunshine Coast in Gibsons, British Columbia and many clubs across British Columbia, Canada.
Frank Coldicott is celebrating his 50th year as a member of Toastmasters. Frank has experienced half a century of speeches, Table Topics, contests, and meetings. He has fifty years of chartering clubs, mentoring new ones and taking on executive roles.
When I was asked to interview Frank for a possible 50th-anniversary blog, I jumped at the chance to meet with a man I consider a friend and mentor.
50 Years of Toastmasters
Coldicott's journey started in 1967 when he was invited to join the Vernon Toastmasters Club. According to Frank, he joined to increase his social interactions. He was a new teacher in his hometown and living at home. If his car appeared at a person's house or a pub, his students knew about it. However, no one said anything when his vehicle was parked in front of a building on Toastmasters meeting night.
"Some people say that being a teacher made me a better Toastmaster. But the opposite is true. Toastmasters impacted my quality of teaching," my friend and mentor confessed. "The pauses and vocal variety helped me to connect with students and teach them more creatively."
The next club Coldicott joined was the Kamloops Toastmasters Club in the early 1970s. It was here that Frank witnessed one of the biggest changes within Toastmasters – the point in which the public speaking club became coed.
"Oh sure, our club encountered a bit of resistance. Some men felt that the club would lose the professional aspects or that 'nothing was sacred,'" Frank explained.  "After the initial shake-up, the dust settled into a really great club."
In the 1980s, Frank helped charter and attempted to start a few new clubs in the area. Some gained ground while others floundered.
After he formally retired from teaching, Frank was approached to be the keynote speaker for a graduation ceremony of one of the classes he taught. According to Frank, he spent long hours refining and practicing the speech.
"While I was delivering the speech I crafted, the boys I taught were talking. I tried everything in my Toastmasters delivery bag to capture their attention. I put in pauses, vocal variety, and gestures. I could not connect with them.
"It wasn't until much later, after several days of ruminating, that I understood the issue. I gave an adult speech. That one event taught me the importance of knowing and understanding your audience."
Frank eventually settled in Richmond where he joined ASK  Advanced Speakers Toastmasters Club of Greater Vancouver, where he became the Area Governor.
In the early 2000s, Frank and his wife Julie moved to the Sunshine Coast where he joined Morningstars Toastmasters Club and later helped mentor the newly formed Beachcombers Advanced Toastmasters Club.
Painting and Speeches: More Similiar Than You Think
"I'm better at Table Topics than written speeches," Frank offered. "I'm way better when it comes from my emotional center rather than the rational thought. It's how I paint."
What some people don't know about Frank is that he is an abstract painter – who is colour blind. He can read the colour of the tube of paint, but how it plays or blends with others is difficult. If he puts too much thought into it, it becomes overwhelming.
Franks says he paints in a flurry before he can start over analyzing or shifting into rational. He believes the end result feels better and looks better when it comes from his heart.
On Pathways
He mentioned that he had seen the curriculum for Toastmasters change significantly at least four times over the years.
"When I started out, there were two books. One was a basic training book, much like the Competent Communicator. It outlined the bare basics of the ten steps of speeches. There was one advanced book."
He's looking forward to the new Pathways and how it may open up the lines of communication via the digital world. Frank open admits that social media and blogs aren't his strong points, but it is something he would like to learn.  Always the student. Always the teacher.
Favourite Roles as a Toastmaster
When questioned about his favourite role in Toastmasters, the humble man emerges. Frank talks about the days when he used to enjoy the center of the stage, taking on roles like chairing Toastmaster meetings or being the Master of Ceremonies for local events. 
"The greatest joy for me, anymore, is watching others as they grow," Frank said. He reminded me of a parent on Christmas Day who once enjoyed opening gifts and is now happy to give them to the next generation.
Franks says that he enjoys listening to others, watching them grow and offering his advice through evaluations.
Or standing back, guiding and filling the gaps.
On Mentoring
I asked Frank if he mentors Toastmasters and he replied, "Oh, maybe one or two over the years."
Like many Toastmasters, I think there's a chance he doesn't see how many lives he impacts. He may not realize how his evaluations and keen observations help layer the growth in skill and confidence of all the Toastmasters in his club.
Frank Coldicott is an asset to the Toastmasters community and especially to Morningstars Toastmasters Club 1248 where he continues to help fellow members shine.
Happy 50th Anniversary, Frank!
And thank you!