Tillicum Toastmasters' 60th Year Anniversary!
Tillicum Toastmasters' 60th Year Anniversary!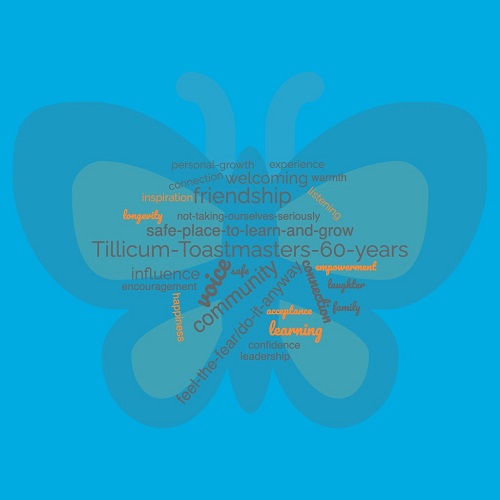 Tillicum Toastmasters' 60th Year Anniversary!
The celebration was awe-inspiring and showcased to members and guests, the impact that joining Toastmasters brings into your life, not just in public speaking but that it develops leadership, communication, and many other skills. During the roundtable discussions, current and past members shared the one word that invoked Tillicum to them reminded me of some of my initial reasons for joining Toastmasters – connection, friendship, family, confidence building, leadership, and Lutz's memorable "a safe place to fall on your face".

Stories were shared of how the storage cupboard and timing lights were made by members and their families, and Maurice, a member of 27 years, is involved in sharing Toastmaster skills with youth in the New Westminster's Hyack Ambassador program.
Miss Natasha Sing, Miss New Westminster 2019 shared that the learning and coaching through Maurice had been instrumental in her attaining the crown and she is still using speech preparation skills as a 2nd year student at SFU.

There was sharing about the roles that different people play in the meetings, some members don't give prepared speeches but are very active in other ways in the club including table topics impromptu speeches, filling various meeting roles and serving on executive. Whatever your goals, interests and time commitment, there is a spot for you at Tillicum.
And we cannot forget to acknowledge Margot who arranged for the delicious treats we enjoyed during our meet and greet break – without the coffee and food, what's a celebration? Loved the variety of both fruit and goodies so we could pretend we were being healthy.
---
Kim Dickie
Area Director M93