2022 Awards Ceremony - Thank You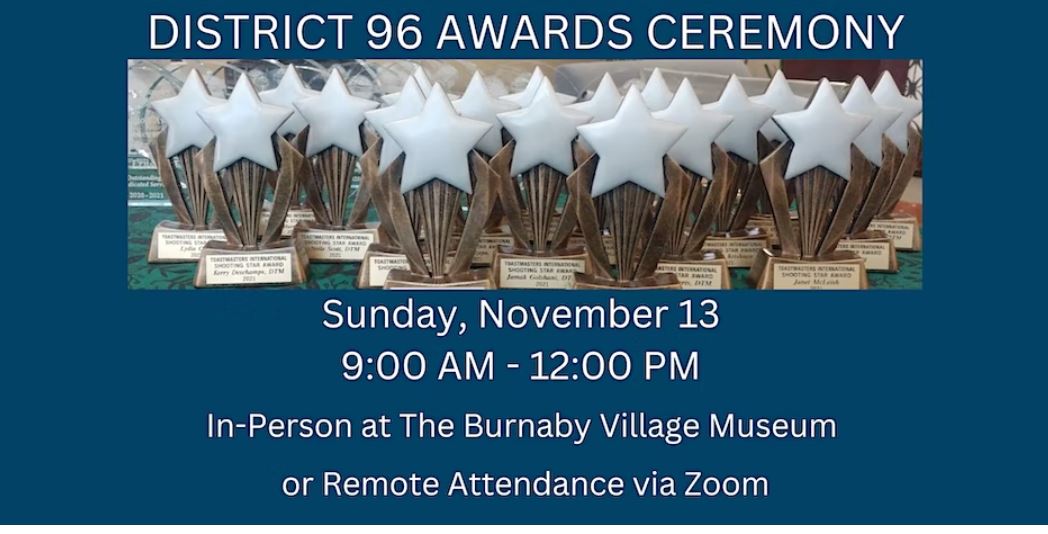 District 96 Awards Ceremony – In-Person and Remote Via Zoom
Thank you to everyone that attended, volunteered, or donated items to the silent auction back in November, we couldn't have done it without you!
Congratulations to all award recipients! Photos can be found at https://drive.google.com/drive/folders/1qJ8HJ6i4r9_5MYzHroPxc-kXcojLg47B?usp=sharing
I would like to give a special shoutout to the following Toastmasters who helped behind the scenes to make this day possible:
Ahmed Hussain - Audio Visual Equipment tester
Aron Zhao – Timer
Carole Murphy – Special Awards Presenter and Zoom manager
Charito Kaay – Awards Distributor
Dan Dyble – Zoom manager
Elson Kung – Audio Visual mentee
Jeff Hamilton – Awards Distributor
Lise Minovitz - Registration and door prize picker
Mark Hurrell – Audio Visual Equipment tester, transporter, food shopper, slides, and admin support
Mark Sherrington – Strike
Michael Gurney – Audio Visual equipment provider, operator, AV mentor and lead
Mimi Vanderheide – Awards selector, and slides
Paul Rostagno – Awards Distributor
Ping Song – Registration
Rob Evans – MC
Roselia Moreno - Slides
Shayan Shakeraneh – food table, Audio Visual Equipment tester, and admin support
Tim Chui – In-person / Zoom liaison and Zoom registration and online door prize lead
Vivien and Alex Welland who picked up the coffee
Yolanda Li – Silent Auction
Thank you too to all those that donated items for the silent auction.
Ally Wang
Anna Gradie
Bernardine Somogyi
Charito Kaay
Darren Frew
Dawn Miller
Helena Chan
Lily Laverton
Rifa Hodgson
Tim Chui
Vivien Welland
HSBC Toastmasters Speaking for Success
Langara Toastmasters Club
For everyone who bid on the silent auction, thank you! This helped us lower our costs, which included, certificates, awards, food, and venue.
*If I have missed someone, my sincere apologies.
A special thank you to Sarah at Starbucks who sponsored our coffee.
1361 Lougheed Hwy., Coquitlam