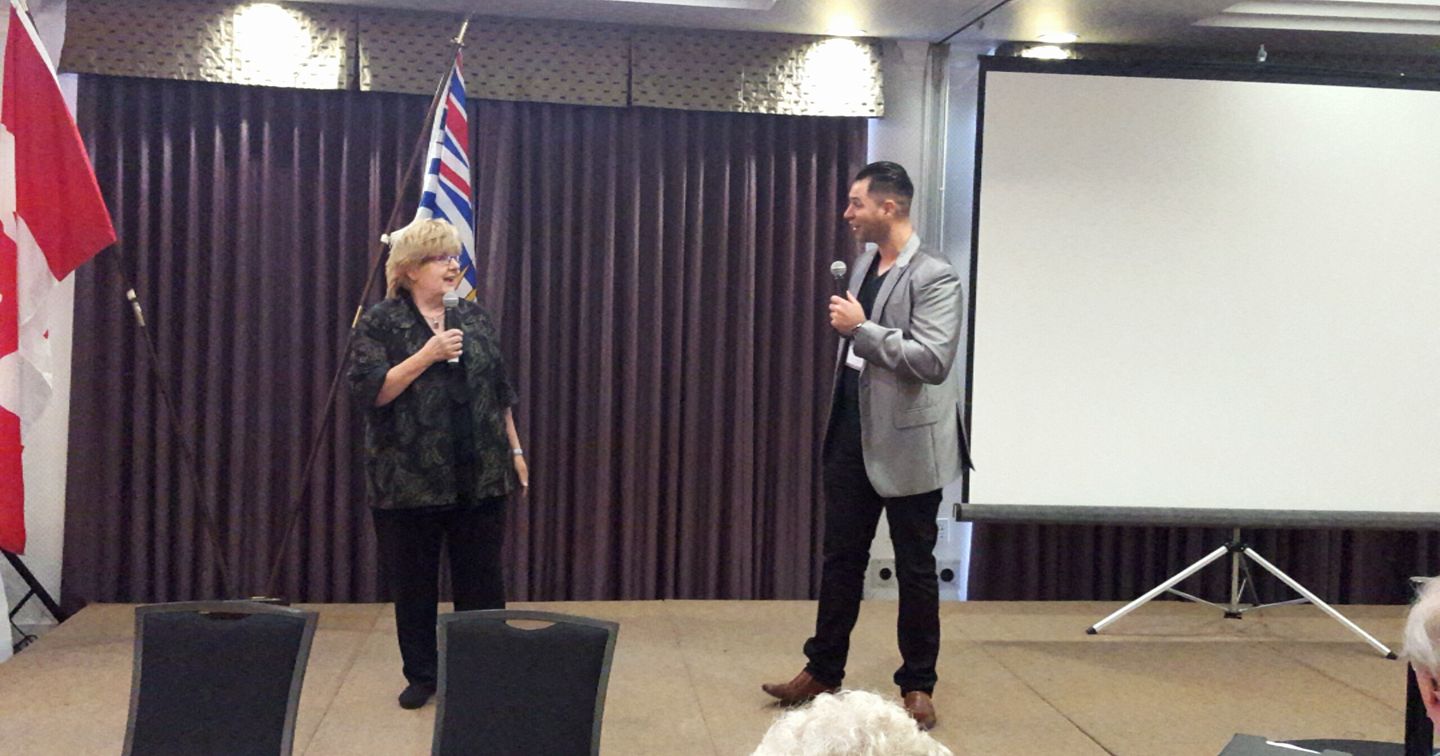 Memories, And Emcee Tips
I always answer local phone numbers. One day in June that number was District 96 Fall Conference Chair, Linda Lee, and she asked me to co-emcee the district 96 fall conference.  I'd be working with Dorothea Hendriks, whom I'd only heard speak once… and I loved her. I hung up the phone super excited, I turned to my girl, Jody Lea, and said,"Hey babe's, I just got asked to co-emcee the fall conference."
Jodes face turned crooked, "What, they don't trust you to do it on your own??? OMG typical Toastmasters."
I love Jody Lea so much. She knows I'm a killer. Every luxury car brand Jody Lea works for offers me a sales job.  I tell them, "I sell exactly what my uncle told me to. Bullsh*t!"
If every Toastmaster KNEW the amount of stress that comes with the conference chair's job… I'll let you finish that. My ending isn't pretty.
My point is that when a conference chair calls, and you say yes to being a part of the team. Do the job to the best of your ability. My job was to partner with both Dorothea Hendriks and Keynote Speaker Bob Hooey, who would pretend to be Dorothea Hendriks. I would be the trusty sidekick who would help fulfill the following duties:
Entertain the audience
Make announcements
Introduce speakers
Keep the meeting on time
Here are a few tips I picked up along the way.
Duty 1: Entertain The Audience.
The agenda was tight, we had a minute-by-minute for the entire weekend. Often times there were only 2 minutes for two emcees to do three announcements and keep the energy up. I needed one- liners so I turned to The Joke Tellers Handbook by Robert Orben, and nabbed these punchlines:
Word meaning:

Mummy: an Egyptian who was pressed for time

Pedestrain: a fella who ignores his wife when she tells him they need two cars

Practical nurse: one who marries a rich, elderly patient.

Punchlines:

 once knew a woman who had 16 children and got a divorce for compatibility

Finish glass of water: ahh that takes care of the chasers for the evening

As my dear old dad used to say (Silence). Dad wasn't much of a talker

I just had a crazy thought. How can a leopard tell when he's got the measles?

I knew a glass blower who got the hiccups. Turned out 700 crystal balls before we could stop him

I told her I would make her happy if it took every dollar her father had.

Isn't this a lovely suit. And so reasonable. Just two instalments and a change of address.

Next week I'm going to Miami for my health. That's where I left it last year.

I don't know about you. But I got gas! (that one's mine)
Dorothea brought along jokes too, like the one about the granny and her granddaughter. One day the granddaughter was leaving through the kitchen wearing a see through top and no bra. "Holy good lord," shouted granny. "You can't go out dressed like that."
The Granddaughter looked funny, "Get with the times Grandma, it's cool to show off your rose buds nowadays."
Later that day the granddaughter came home from school and granny was sitting in the living room with her top off. "Oh my gosh, geez Grandma, what are you doing?" Shouted the granddaughter.
"Get with the times," shouted granny. "It was cool to show off your rose buds but now it's cool to show off your hanging baskets!!!"
I followed that joke up with all kinds of punchlines like, "When you've seen as many hanging baskets as I have…"
"Ohhhhhhh," shouted the audience.
Dorothea had Bob and I organized. We hooked up on Friday and I had the privilege of spending a couple hours alone with Bob before the event started. You can learn a lot from Bob in a very short time. I also enjoyed Bob's Sunday morning keynote speech about leveraging leadership. I love how Bob came right over the edge of the stage and talked to literally everybody in the room. Bob changed my life and Dorothea Hendriks changed Bob's life!!!
That's right, Bob told the Sunday morning crowd that Dorothea was one of his role models.
Duty Two: Make announcements.
Here is one announcement of many that we had to repeat: speech contestants have mic check at 6:15am in the ballroom.
Tip: When you have an announcement that you have to repeat throughout the day, or the event… make the announcement once. On the second announcement say, "Does anybody remember what time the speech contestants meet in the morning?"
By the fourth announcement most the audience will be shouting the answer.
Duty 3: Introduce Speakers.
To introduce one speaker I said, "Our next speaker doesn't need an introduction. But he insisted."
I later flipped that joke:
Our next speaker doesn't need an introduction. So I'm not going to give him one. Then I told a little story.
In the right situation you could take it up a notch:
Our next speaker doesn't need an introduction. He needs a roast! Let me be the first to put him down.
Remember to end on a high note.
Duty 4: Keep The Meeting On Time.
Dorothea had us synchronize our watches because Toastmasters are time Nazis. For example, if you're on the agenda at my home club, Talk of The Town Toastmasters, and you have 3 minutes to speak. Plan a 3 minute speech because you're getting clapped off at 3:15.
The District 96 Fall Conference included two speaking contests, three keynote speakers, three workshop speakers, business meetings, a live auction with Gene Vickers, award ceremony, breakfast, lunch, and dinner for 150 people.
There was no time for tardiness.
I walked around the lobby telling people to make their way inside. Dorothea got on the mic and we had 150 people seated in no time. I'm pretty sure that for the first time in Toastmasters history our conference ended ON TIME!!!
To sum it all up
I used to attend conferences just wishing I could get on stage. I guess my wish came true, and I know I did a pretty good job but I also know that next time I'll do even better!!!